Florida Trail Association - Loxahatchee Chapter
Regular Chapter Led Hikes
Our chapter sponsors several reccuring walks each month. The time sometimes varies depending upon the season so consult our Meet-up site for up-to-date time and details. These are open to the public.
---
Walk in John Prince Park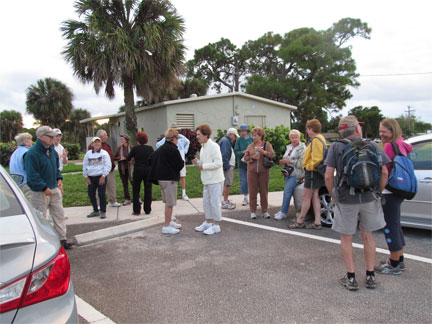 Recurring walk held on 1st Saturday of each month
Enter the park from S Congress Avenue (.9 miles south of Lake Worth Rd.) Take Prince Drive to Center Dr and park in the lot S of Prince Drive (.25 miles in from S Congress)
Walk begins promptly at 7:30. Arrive a few minutes early for sign-in
Leader is Paul Cummings:  561-963-9906
2 to 4 miles (leisure to moderate pace, you choose)
All on asphalt paved multi purpose walkway
No fee
Optional breakfast after walk at TooJays in Lake Worth, 419 Lake Ave
Restroom at parking lot opens after 8:00 am
Hike at Jonathan Dickinson State Park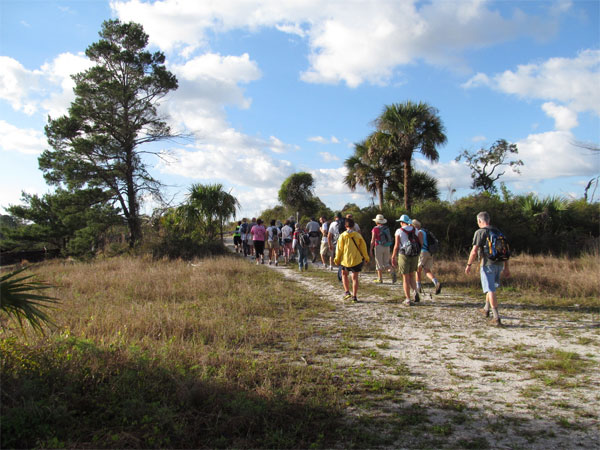 Recurring hike held the 1st Sunday of each month
Meet at the entrance gate on US1 (3.7 miles north of intersection of US1 and A1A)
Park opens at 8:00 am. Hike leader will direct parking
Bring water.  (Recommend 2 liters)
Leader is Mary Miller:  561-391-7942
Varies 7 to 12 miles. Several loops are available.  Leader will decide the day of the hike. Moderate
Conditions vary depending on route selected and wetness.  Most of the trails are in the open with some loose sand and some water. Short sections of ankle deep water are likely
There is an entrance fee to the park ($4.00/car for one person  - $6.00/car for 2 or more)
Dune Dog restaurant after the hike is optional.  Located at 775 Alt  A1A in Jupiter.
Restroom at the concession area at the river.  Some hikes start there but not all.
Walk in Okeeheelee Park

Recurring walk on 3rd Saturday
Starting location varies. Check details on Meetup for starting location.
Usually starts at 7:30am
Leisure walk up to 4 miles
Many are on asphalt or crushed walk multi-purpose walkway
No Fee
Optional breakfast after walk at Pete's Restaurant 6774 Forest Hill Blvd
Restroom available at Heart trail parking lot or at Nature Center
Hike the Apoxee and Owahee Trails

Recurring hike held on 4th Saturday of each month.
Parking @3125 N. Jog Road (1.2 miles north of Okeechobee Blvd in West Palm Beach)
Hike starts promptly at 8:00 am. Arrive a few minutes early for sign in.
Bring water. (Recommended 2 liters)
Leader is Joe Rosenberg:   561-859-1954
Varies 8 to 12 miles.  There are options to shorten for any hiker.  Moderate difficulty
Four miles in wetlands with treed canopy. Condition of this portion varies from dry to knee deep water. The remainder is on levees, hard packed mostly open.
No fee
No planned meal event
Portable restrooms and picnic table at parking lot. No drinking water on site.
Please visit our Meet-up Site for current activities and schedule changes