Florida Trail Association - Loxahatchee Chapter
Ocean to Lake Hike
The Ocean to Lake Hike takes place yearly near Presidents' Day. This six day backpacking hike follows the Ocean to Lake Hiking Trail, starting at Lake Okeechobee and hiking to the Atlantic Ocean. The data book for the Ocean to Lake Hiking Trail is available by clicking here. You may also visit the FTA store to purchase a hard copy of the map.
2017 Ocean to Lake Backpacking Information

February 18 -23, 2017
The Ocean to Lake Backpacking hike is a FTA sponsored hike covering 63 miles in 6 days. This is not an easy hike. Camp sites are primitive and trail conditions and weather can make the hike challenging. Prior backpacking experience especially in Florida is necessary before attempting the hike. The hike does provide the opportunity to experience and enjoy some of the best managed natural areas in south Florida. Due to campsite limitation the hike is limited to 24 hikers.
Saturday, Feb. 18
Pre Hike Accommodations - Note the FTA work site camp ground in Jonathan Dickinson State Park (JDSP) is NOT available for overnight stay on Friday, so if you want to camp in JDSP Friday you must reserve a site in their public campground. The JDSP regular campsites fill up fast in February. The full service sites are $26.00 +tax/night (50% discount for senior citizens +65). Reservations are made through ReserveAmerica.com or (800) 326-3521. There are several chain motels at the Indiantown Road/I-95 exit for about $90/night. There are several other motels nearby as well.
We will meet at Harry and the Natives restaurant located in Hobe Sound at the junction of US 1 and Bridge Road for breakfast at about 6:30 am. At about 8:00 am, after breakfast, we will go to the FTA work site across from the barracks in JDSP. People who want to skip breakfast will meet us there. Those who wish to leave cars at JDSP ($2/ night) will park at the FTA work camp site. Resupply drops for Corbett on Monday will be collected here. Please label your package clearly and DO NOT USE A TRASH BAG. We will be shuttled out to the Palm Beach County Lake Okeechobee Scenic Trailhead (LOST) located on US 441 just south of the PBC/Martin County boundary. If you plan to meet us at the LOST trailhead please be there by 9:30.
For those hiking 3 days, cars may be left near the Corbett Youth camp. Please park at the Hungryland Boardwalk parking and contact the camp director Janice Kerber (Janice.kerber@MyFWC.com ). You may need to provide your own shuttle.
LOST trail head to Loop 4 campsite, DuPuis Management Area- 9 miles.
They are still doing construction along the dike, so we will not have access to the lake. First 2 miles is a road walk Habitat in DuPuis is mostly pine/palmetto flat woods with some cypress strands. We'll break for lunch just after entering DuPuis. Non-potable water is available from a pitcher pump.There are two picnic tables and a fire ring at the campsite.
Sunday, Feb 19: Loop 4 campsite to Little Gopher campsite in JW Corbett Wildlife Management Area -10 miles
Pine /palmetto continue in DuPuis but more cypress is present in Corbett. We'll break for lunch at Powerline Road at the DuPuis/Corbett boundary. There is a large canal for water at the campsite but it needs to be filtered.. The only amenities are 4 benches.
Monday, Feb. 20: Little Gopher Campsite to Corbett Youth Camp- 12 miles
There are many roads and buggy trails in Corbett so follow the blazes carefully. Habitat is cypress, wet prairies and pine flat woods. Expect to get your feet wet in the Hole in the Wall (large cypress strand) in the morning and also in a large wetland one mile from the Youth Camp. There is a white blazed bypass to avoid the largest wetland. Lunch break is at the access trail to the Bowman Island campsite. At the Youth Camp showers, flush toilets and potable water are available. "Cabins" ($12/person) are 12 person bunk houses segregated by sex (no bedding or towels are provided). You may tent out ($9) if you wish. Snacks and drinks will be provided as part of the chili dinner which includes a mixed salad and garlic bread. The chili is made with ground turkey. Resupply drops will be delivered and a shuttle back to JDSP for the three day hikers may be available. Friends and other guests are invited to the dinner for a $10 donation to FTA.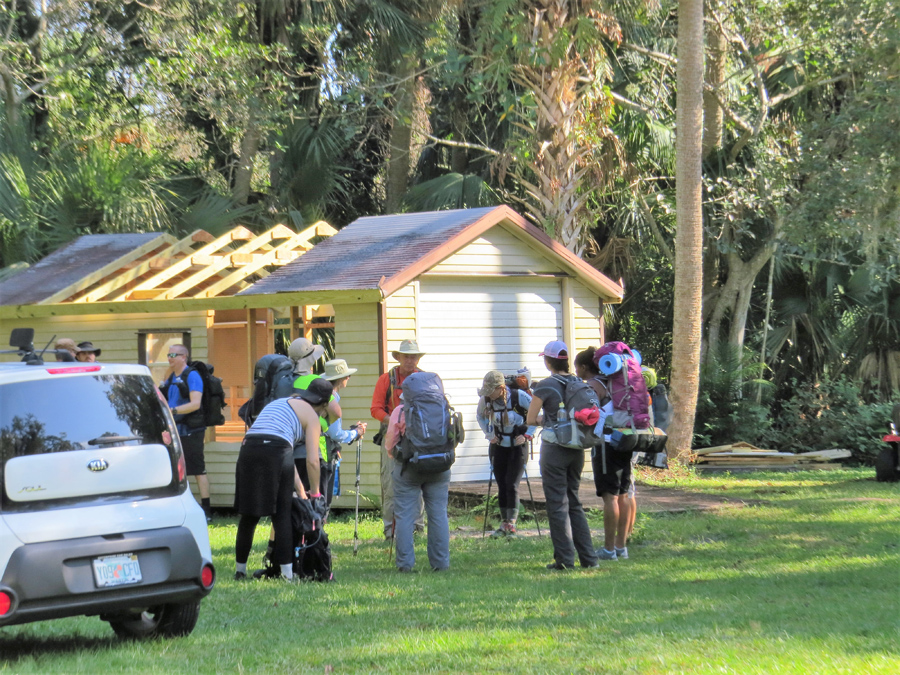 Proceeds from the chili dinner will be used to help pay for repairs to the Chapter's storage shed at Lainhart (click photo for larger view).
Tuesday-Thursday hikers are welcome Monday night. There will no shuttle to or from the Youth Camp Tuesday AM.
Tuesday, Feb. 21: Youth Camp to Lucky tract Campsite- 11 miles
Today's hike is in several areas undergoing significant restoration by Palm Beach County. In mid morning we will regroup before the ¾ mile road walk on SR 710 (Beeline Hwy).  About ¾ mile from the campsite we cross the West Leg of the C-18 canal on a management road bridge and pick up non potable water from a pitcher
pump about ½ mile from camp. There are no tables or benches at the camp. The Lucky tract is managed by Palm Beach County and NO GROUND FIRES ARE PERMITTED. Overnight camping on PBC lands is not normally permitted and we have been granted this privilege with the understanding that there will be no ground fires.
Wednesday, Feb. 22: Lucky Track to Kitching Creek Campsite in JDSP-12 miles
After leaving the Lucky Track we have a mile walk on the C-18 levee and then enter Riverbend Park. The Park was the site of the Battle of Loxahatchee during the Second Seminole War. The county has completely transformed the former cattle ranch and citrus groves into a mosaic of pines, cypress sloughs and wetlands. We'll use a
underpass to cross Indiantown Road then head west, cross the Loxahatchee on the road bridge and arrive at a small strip mall with a convenience store and a couple of good small restaurants for lunch (Pizza and Mexican). Leaving the store we walk along the west bank of the Loxahatchee River and go under I-95/ Turnpike river overpass. Two miles from Kitching Creek campsite we must wade the Hobe Grove canal. Water level is usually mid calf to waist deep. The canal bottom is a geoweb /shell rock which can be hard on bare feet. The campsite, 0.3 mile off the trail, includes a mulching toilet, picnic tables, pitcher pump with non-potable water, trash cans and fire rings. This campsite is heavily used by inexperienced campers and raccoons may be present.
Thursday, Feb. 23: Kitching Creek Campsite to Hobe Sound Beach- 9 miles
The park has some of the best managed pine flat woods in south Florida. The east side of the park is scrubby oak and sand pine on ancient sand dunes We will stop for lunch at the Taste restaurant in Hobe Sound before we complete the last mile or so of the
hike on Bridge Road. Friends and family meeting you are welcome to join us for lunch. We'll need a head count before the hike to reserve enough space for all of us. The beach is usually crowded and we always make a big impression on the beach goers. Shuttles will be available to take people back to JD to pick up their cars
COST SUMMARY
$2/night to park a car at JDSP
$12 (cabin)-$9 (tent) at Corbett Youth Camp
$10 Donation to FTA for Chili Dinner at Corbett Youth Camp
$5 for camping at Kitching Creek in JDSP
$20+/- for Lunch at Indiantown road and Taste restaurant in Hobe Sound
Fees for camping, car parking and chili dinner will be collected before the hike
Waivers:
Both the Florida Trail Association and Florida Wildlife Commission (who manage the Youth Camp) require all participants to sign waivers of liability. FTA waivers will be signed at JDSP before we go out to the lake and the Youth Camp waivers on Monday night.
Maps:
An Ocean to Lake Hiking Trail map is available from the FTA store. Go to www.floridatrail.org to purchase a copy.
Weather:
Overnight lows have been in the low 30's while day time highs have been in the mid
80's. Rain is always possible.
Safety and Communications:
This is a FTA sponsored hike and we (FTA) are responsible for your safety but each hiker is responsible for their own safety and the safety of the group. I do not expect or require that we hike as a single group but we do need to stay in communication with each other and follow the hike plan for each day. There will always be an experienced hiker as sweep. I will ask any hiker with advanced medical training or CPR/1st aide certification to identify themselves. Any hikers with medical or health conditions are urged to disclose same to me. I will hold that information in confidence unless necessary to provide 1st aide. There are bailout opportunities every day but some are remote and require some time to get a sick or injured hiker off the trail.
A list of key cell phone numbers will be distributed before the hike to all hikers. Every hiker should have a cell phone or hike with someone that does. However cell phone service is spotty on parts of the trail.
We usually leave camp around 8 AM. If you want to leave early please advise me since I will discuss the route and re-grouping locations each morning. The sections are not long and we usually all are in camp by 4 PM.
Our objective is for everyone to have a safe and enjoyable hike. Your cooperation with these few basic procedures will help ensure achieving this objective.
For more information or to register for the hike please contact Fred Davis fdavis6539@msn.com (561 585-6386) or (561)779-0273
Here's a link to the registration form. Please remember the number of applicants is limited, so contact Fred to make sure there are spots available before you send it in.
Please visit our Meet-up Site for on-line discussions and updates.